The concept of casual dining has been around for a while, but in the past couple of years there has been a positive shift in "out of home" dining towards casual dining.
Millennials, for example, spend a whopping 13% of their income on dining out.
According to the FCSI, whilst the restaurant sector as a whole saw a decline of around 43m visits in the year to June 2018, the casual dining sector reported an additional 35m visits during the same period.
That's the good news.
The bad news is that whilst this format is increasing in popularity, competition within the sector has increased dramatically, costs are rising, consumer demands are challenging, and profits are falling dramatically.
Consumer demands
In an age where everything is expected to be fast, top quality and enjoyable, consumers want a shorter dining experience that nonetheless delivers quality food at a reasonable price in an interesting or entertaining way.
Be it the party vibe of Turtle Bay, or the family-friendly Frankie and Bennies, people want to be able to choose the atmosphere as well as the type of food on offer to suit the moment.
Recent research by food-industry market research firm Datassentials and foodservice research firm Technomic shows that over 50% of those surveyed want a "new experience" when they dine out.
With allergies and food intolerances on the increase (the World Allergy Organisation suggests that over 170 foods are associated with allergic reactions) and an increasingly health conscious society, diners are demanding to be able to choose allergen-free or "healthy alternatives".
Alongside, the healthy approach, we've seen a decline in the number of alcoholic drinks consumed at casual dining restaurants, and an overall decline in drinks per head.
Rising costs
Added to all of that is the increasing costs of high street rent and rates, the national living wage and, in recent times, a weak exchange rate that has effectively raised the cost of ingredients.
And, at the time of writing, there is the uncertainty over BREXIT that really concerns those who purchase ingredients from the EU.
Competition increasing
Competition isn't just other restaurants. The competitors for the casual dining market £ are coming from new sources:
Delivery services
Dark restaurants
Entertainment venues
Click and collect
Food markets
Grab and go
Drive throughs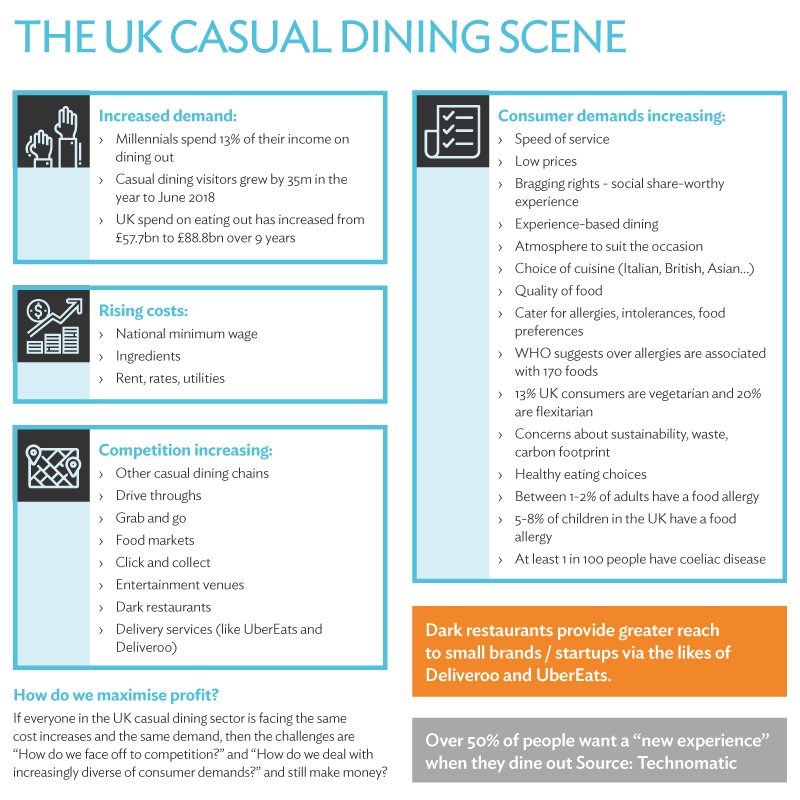 We've worked with several UK restaurant chains, each with their own goals, formats and cost profiles. All impacted by those same pressures, yet what a range we have seen in terms of results!
Some have been really struggling whilst others have maintained position through discounts and promotions. But there's that third group who, despite tough market conditions are continuing to expand and take market share from their competitors.
When you can't push up prices, costs are escalating, and competition is coming from new sources, we believe that fundamentally restructuring the way you look at restaurant profit and loss becomes an imperative.
We aren't simply talking about doing what you've always done, more efficiently - though that is important.
Nor are we talking about obtaining goods and services at the lowest cost... though that's another critical aspect.
The "traditional" restaurant chain is under pressure to use all of it's assets more efficiently.
It's no longer a case of doing the same thing better.
One of our favourite questions, in our role as restaurant consultant is "What is the "profit per" KPI that drives profit in your business?" It's a substantially different way of looking at restaurant profit and loss.
The Secret Sauce of Restaurant Chain Profitability
gives our view on the way the structure of restaurant profit and loss has changed together with a practical guide, based on experience of working with top UK hospitality brands, of the ways in which restaurants of all types can improve profitability without sacrificing customer experience.