Traditionally, business leaders have looked at the trend in overall profit (or loss) for the group as a measure of success. Most will break this down by restaurant and/or geography to facilitate restructuring / growth decisions.
They will look at their profit margin compared with the competition and to improve margin, they will work the levers of increasing revenue and/or reducing the cost of goods sold.
But things have changed enormously in the past couple of years.
Disruption in the UK casual dining market from alternatives like Deliveroo, UberEats, Foodhalls, drive-throughs and others, plus the seemingly ever-increasing demands of a very fickle consumer means that this traditional approach to control simply doesn't work.
Those who survive must differentiate themselves. They have to provide entertainment value, atmosphere and good food. And they have to do it more efficiently than the next person to sustain their place in a world of tight margins and fickle customers.
So rather than asking yourself "What is the root cause of the problem in our business? (Is it the theme, the menu, our cost base, our efficiency....), casual dining restaurants have to step back to discover the most profitable use for their resources.
The question should be "How do I work with what I have to make the most profit?"
We have a methodology for doing that...
Identify the root cause of the problem in your business
This isn't as easy as it may seem, of course!
Traditionally, businesses have brought in experts to optimise each area of their business:
Consultant chefs to review the menu and made the kitchen more efficient
Restaurant managers charged with inventing ways of selling more in their restaurant
Procurement consultants to reduce the cost of goods and services
Team leaders are asked to optimise rotas to reduce the wage bill
Interior designers are tasked to come up with innovative concepts to wow the consumer
Marketing experts are challenged to improve customer loyalty and increase sales
Now, those specialists are needed. No question about it. Interior designers, consultant chefs, procurement, marketing… each of those experts has a part to play.
BUT...we believe that a different approach is needed.
All FD's know that "sweating the assets" is key: driving more profit from the total available space and resources.
Yet many restaurants that we talk to are still operating the traditional approach of hitting on one area at a time – the menu, the staff, marketing, ingredient costs etc.
In the organisations where we have seen the biggest improvement in cash and profit, there has been a real focus on the core economic engine: the handful of factors which, if done well, delivers transformational performance.
Profit is lost in the gaps between the teams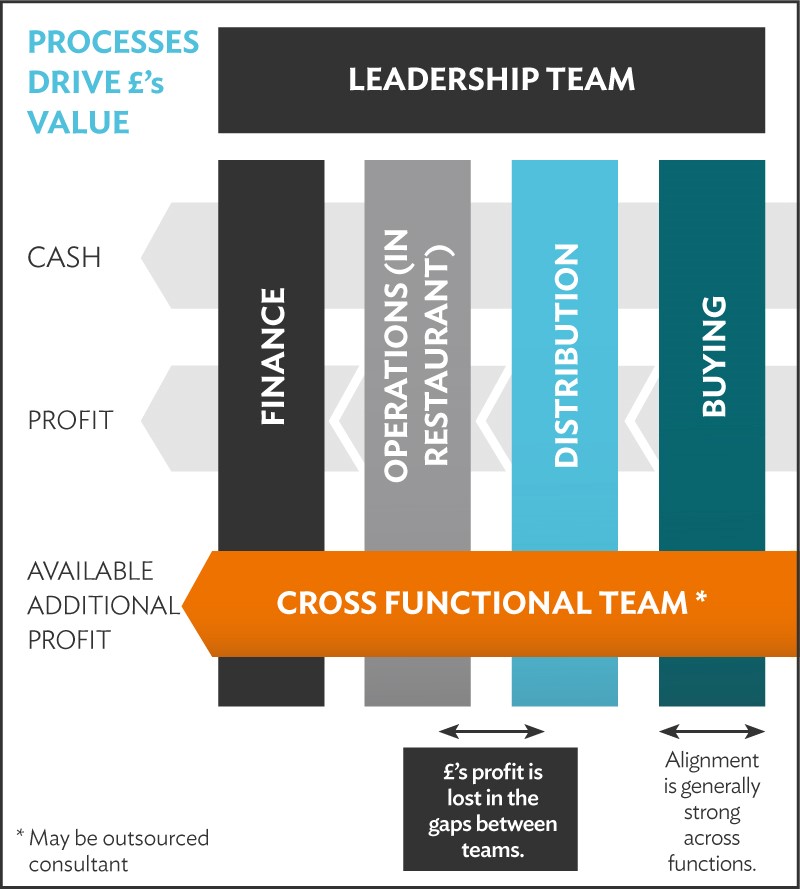 Inevitably, this means working across (as well as within) business functions on the processes which drive value.
This is a very different way of working. But one that yields exceptional outcomes.
Because casual dining competition is not simply other casual dining restaurants, and available space can be used to complete in several different ways, we believe that in an industry of burgeoning complexity, simplicity is the key to profitability.
How much profit are you leaving on the table?
Pardon the pun, but just how much profit are you leaving on the table in the gaps between your functional teams?
Find out about Insider Pro's approach to driving restaurant profitability by requesting an assessment of your restaurant chain now.