Casual Dining Chains in the UK have seen a rapid explosion in demand, a number of failures and an influx of competition emerging from new and inventive sources.
Consumers are becoming increasingly demanding, expecting fast service, great food, entertaining environments - in short, an experience that is "Instagramable".
Everyone is working on tight margins, feeling the threat of rising prices due to Brexit, and as a result many are struggling to work out how to increase profits and/or simply survive.
Increasing prices is pretty much "off the table" (pardon the pun!) for most brands because of considerable competition within the industry.
Disruptors like Deliveroo and the Editions (dark restaurants) plus food markets, drive throughs and other emerging out of home dining formats that don't have the same overheads as casual dining restaurants are forcing prices down, not up.
Instead, we have to search for smarter ways to increase revenue and reduce costs.
Through our experience of working behind the scenes with some of the biggest brands in the industry, we have collated 18 ways to increase profits. Here's the list, but to discover the detail behind each one, download our free 60 page eBook.
So here goes... our list of 18 ways to maximise restaurant profitability:
Optimise product range / mix
Improve sales execution
Optimise table management
Reduce complexity...everywhere
Find simple, cost-effective ways to manage allergens
Use less operations labour per £ revenue
Optimise staff rotas
Weigh up the pros and cons of buy vs prepare
Pay less for purchased items
Optimise product specifications
Monitor supplier terms (the real price)
Improve distribution efficiency
Improve stock management / reduce waste
Lower overhead per £ revenue
Reduce costs for property repairs and cleaning
Reduce utility costs
HR management and recruiting issues
Maximise value from marketing
And now to the secret....
----- Mind the gap! -----
Looking down that list, perhaps you are feeling that you can tick all the boxes, yet you still feel there is something you could do better?
The secret is not to examine each area in isolation but to work across all areas of the business simultaneously.
Profit is lost in the gaps between the processes.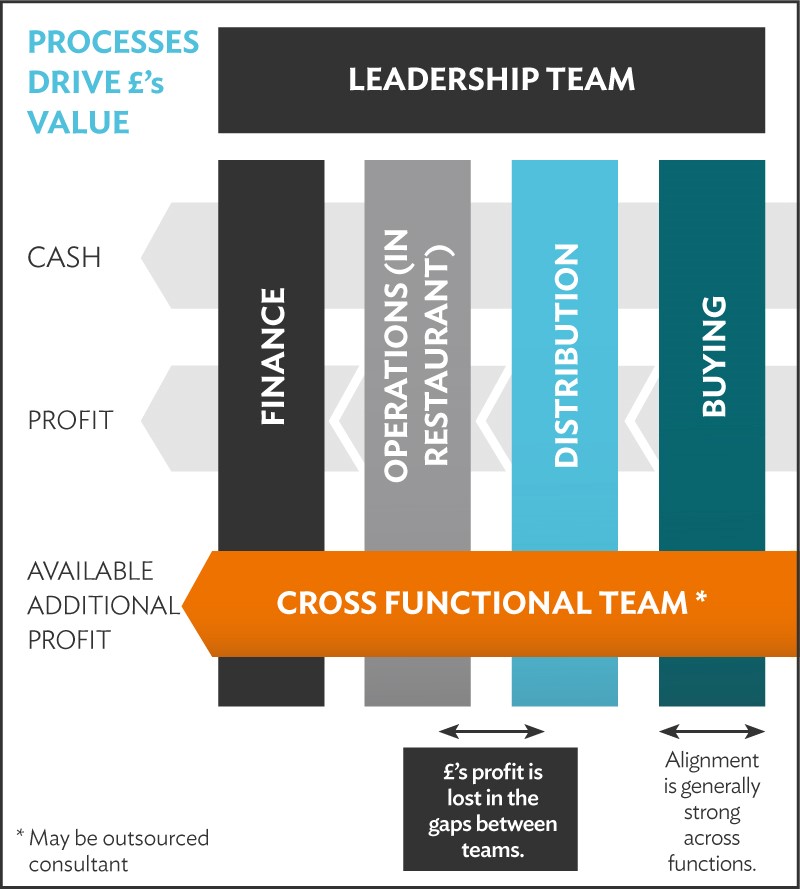 To find out more about our rather different approach to finding hidden profits in your business, download our eBook "The Secret Sauce of Restaurant Profitability" or schedule a call with one of our experts today.
Discover how we'll help you accelerate the profitable growth of your restaurant chain.